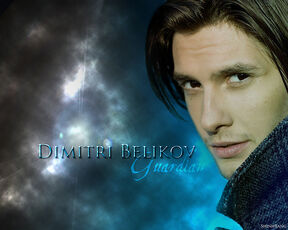 Dimitri Belikov is 24-year-old dhampir of Russian origin from Siberia, assigned to be Lissa's Guardian along with Rose. He is 6'7", has brown eyes, shoulder length hair, a few shades lighter than Rose's dark brown hair, and tanned skin. Dimitri has a slight Russian accent, and likes old western novels. Often described as a 'god' he is a very skilled fighter. He is also Rose's mentor and love interest.
He returns Rose's feelings but attempts to stay out of a relationship with her for most of the series, since it would interfere with his guardian duties. He is turned Strigoi at the end of Shadow Kiss and is later turned back by Lissa near the end of Spirit Bound. He becomes increasingly depressed after being turned back to a dhampir, riddled with intense guilt over the things he did while he was Strigoi. He helps Rose break out of prison in Last Sacrifice and goes on the run with her. Throughout the journey, he slowly starts to open his heart and discover life and love again. Though at first claiming to have lost his love for Rose, he later admits otherwise and they begin a relationship nearing the end of Last Sacrifice.
Ad blocker interference detected!
Wikia is a free-to-use site that makes money from advertising. We have a modified experience for viewers using ad blockers

Wikia is not accessible if you've made further modifications. Remove the custom ad blocker rule(s) and the page will load as expected.